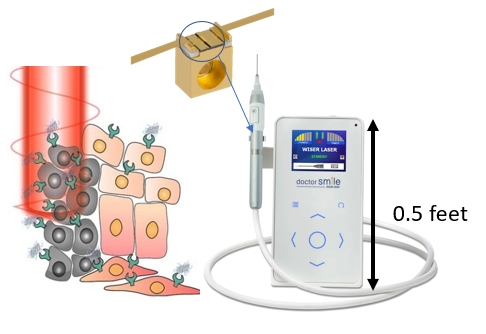 We are developing a number of different laser medicine technologies, derived from the use of tiny quantum-engineered semiconductor heterostructures based laser waveguides, with various teams of physicians at UIHC.
One project is focused on utilizing compact mid-infrared (MIR) quantum cascade lasers emitting in the MIR (can be designed to emit the entire MIR range of 3 μm to 30 μm by quantum engineering) for surgical applications. Amines, alcohols, and amides have strong absorption in the MIR and can be ablated at much lower ablation thresholds using MIR lasers than NIR lasers. This project is in collaboration with Dr. Mitch Coleman and Dr. Ben Miller of UIHC for improving surgical outcomes of sarcoma resection. We are also investigating precise MIR laser ablation for treating cardiac conditions with Dr. Sandeep Laroia.
Another project is focused on delivering and monitoring laser radiation effectively in photodynamic therapy (PDT) of cancers. This is a collaboration with Dr. Gal Shafirstein at Roswell Park (where PDT was invented), and physicians and Rad Onc researchers at UIHC. 
Latest efforts include a collaboration with the Human Brain Research Lab team at UIHC to develop EM models for studying neural activity pre- and post-Laser Interstitial Thermal Therapy (LITT) procedures.