Biography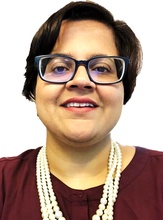 Professor Fatima (pronounced: FAA-teh-maa) Toor is the Lowell G. Battershell Endowed Chair in Laser Engineering and Associate Professor of Electrical and Computer Engineering at the University of Iowa. Dr. Toor also holds a secondary appointment in the Physics and Astronomy department and is an affiliate of the Iowa Technology Institute and MATFab facility at the University of Iowa (UI). She is also an associate member of the University of Iowa Holden Comprehensive Cancer Center - Experimental Therapeutics program. At UI, her team's research involves the design, fabrication, and testing of innovative semiconductor optoelectronics devices for applications in the health, environment, and energy industries.
Dr. Toor is involved with technology startup companies as well. She is currently the Vice President at an Iowa-based startup, Juggernaut Life Sciences, LLC leading efforts in developing biomedical technologies using mid-infrared lasers and nanotechnology sensors. She was a co-founder and Vice President of Firefly Photonics, LLC, which is developing mid-infrared LEDs for defense and gas sensor applications, from which she exited in March 2023. 
Prior to UIowa, she was a Research Analyst at Lux Research, a multinational technical advisory firm, where she helped global clients – Innovation 1000 corporations, leading institutional investors, utilities, and public policy makers – make better strategic decisions and monitor the ever-changing global solar market. At Lux her primary role was to help her clients build their innovation pipeline by evaluating startups in the solar industry. She traveled to the EU, China, Japan, and South Korea during this time to visit clients on-site and present at international conferences. Before joining Lux, Dr. Toor was a Postdoctoral Researcher in the Silicon Materials and Devices group at the National Renewable Energy Lab (NREL). While at NREL, Dr. Toor improved on the previous best efficiency of nanoporous black crystalline silicon solar cells, a technology that was patented. During her undergraduate years, Dr. Toor interned for two summers at the IBM T. J. Watson Research Laboratory working in a Class 100 cleanroom on process optimization of crystalline silicon microelectronics fabrication and nanoimprint lithography.
Dr. Toor obtained her Ph.D. and M.A. in electrical engineering from Princeton University where she developed spectrally high performing (4-wavelength; time and wavelength multiplexed; single mode) InGaAs/InAlAs/InP based mid-infrared wavelength quantum cascade lasers (QCLs). While at Princeton, she also minored in physics and Science Technology and Environmental Policy (STEP) from the Woodrow Wilson School of Public and International Affairs. She received her B.S. degree with a double major in engineering sciences and physics from Smith College. Dr. Toor is a member of American Physical Society (APS), Institute of Electrical and Electronics Engineers (IEEE), Optica (formerly OSA), SPIE the international society for optics and photonics, and American Society of Laser Medicine and Surgery (ASLMS). Dr. Toor has published in many peer-reviewed scientific journals, presented at various scientific conferences and received several awards for academic excellence.
Current Positions




Education
Ph.D. Electrical Engineering, Princeton University, 2009
M.A. Electrical Engineering, Princeton University, 2006
B.S. Double Major in Physics and Engineering Science, Smith College, 2004
Glimpses of Professor Toor as a Student Researcher and Research Analyst
Glimpses of Research in the Toor Lab